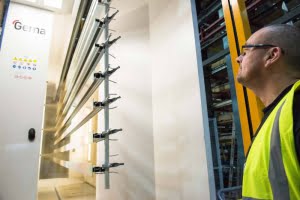 Welcome to Vitrum!
Vitrum was founded by industry experts with a broad range of skills and experience covering fabrication, installation, contract management and company performance. We believe this gives us an edge over competitors in the imperforate service we provide!
Vitrum's extensive range of curtain walling, windows and doors from the market's leading system manufacturers brings a solution to satisfy the needs of every customer.
Our working relationship with suppliers who share our passion for excellence, enables us to deliver our high quality product on schedule.
Our certified and experienced installations team fit our product to the highest standard, taking great pride in their work and the professional, courteous manner in which they do so.
We strive to continue our reputation as a safe, considerate and well organised contractor. Our personal approach to be involved every step of the way from planning to handover ensures the most efficient and cost effective solution for our customer.
All of our staff are trained and certified giving our clients the professional service they deserve.
Feel free to request data sheets for any of the products you are interested in. Our technical team are always happy to help with any enquiry you may have.
Our technical team follow up each project with a customised after sales service to suit your needs. Our easy to understand Operations and Maintenance manual explains everything you need to know to achieve full product life span.